Are you looking for a retro Bluetooth speaker, but you're feeling overwhelmed by the wide range of products and options out there? This guide will show you how to pick the best vintage and retro Bluetooth speakers that suit your needs and desires.
Retro Bluetooth Speakers We Recommend
Our Pick: Marshall Acton
What we like: Excellent sound quality with distinct highs and lows and powerful bass for its size, Beautiful vintage design, Gold plated connectors
Not so much: Some users reported Bluetooth connectivity problems, no support for batteries
Marshall Amplification is an English company founded in 1962 and is known for designing and manufacturing music amplifiers, speaker cabinets, and headphones. Marshall is one of the most respected brands when it comes to vintage or retro speakers.
The Marshall M-ACCS-10126 comes with 40-Watt output power. It has a classic Marshall vintage amplifier design with three custom-control analog interaction knobs.
This Marshall vintage-looking speaker has a well-balanced audio boasting with clear midrange and extended highs. It has an APTX Codec Class D amplifier and a crossover frequency of 4200Hz.
For connectivity, it has a Bluetooth Wireless 4.0 connection and a 3.5 mm auxiliary jack. The package should also include a 3.5 mm double ended auxiliary cable with gold plated connectors that ensure excellent sound quality with no distortions.
Marshall Kilburn
What we like: Impressive sound quality and deep bass for its size, build quality, Great portability features, Treble and bass controls that let you customize the sound to your taste
Not so much: For some users, the battery failed in under one year, No phone support
This is a portable vintage speaker with a total output power of 25W. It has a built-in battery that ensures up to 20 hours of music play, Bluetooth 4.0 connection, and weighs in under 7 pounds.
All this adds up to great portability capabilities. However, it lacks RCA and optical inputs.
Besides the connectivity features, the speaker also has a slick design with gold-colored metal details, a vintage-looking front fret, and the iconic script logo.
In the technical area, the speaker has two 3/4 inch Dome tweeters and a 4-inch woofer with a frequency range of 62-20.000Hz.
TEWELL Retrorock
What we like: Great value for money; It has a decent sound quality for its price, The highs and lows (bass) are very good and powerful, A stable Bluetooth connection and easy to pair with other devices
Not so much: Although the speaker has excellent highs and powerful bass, the mid-range frequencies are practically non-existent, Some distortions are present in the mid-range sounds, The tone control is missing. There is no way for you to control the bass or the treble
The TEWELL Retrorock Bluetooth speaker comes with powerful sound and boosted bass. It has 24-watts of audio power that is delivered by two professionally-tuned drivers, 12-watts each.
The bass reflex system provides a whole new experience of listening to music, watching movies and playing games.
The design is retro with a gold toggle switch, a knob for volume control, and leather wrapping.
As far as connectivity goes, the speaker has Bluetooth 4.2 connectivity which has faster speeds and lowers power consumption than the Bluetooth 4.0 connection. This makes it ideal to stream music from your smartphone or tablet.
The speaker also has a 3.5mm input with Nylon Braided Cable which means you can also connect it to your computer.
GGMM M3
What we like: If you have more M3 speakers, you can stream different songs to different speakers, 3-year warranty, Direct DLNA and internet radio through the Wi-Fi connection, Good and stable Bluetooth connection
Not so much: The customer service could be better, Some connection problems via Wi-Fi
This beautifully designed Reddot award winner speaker has many connectivity options. It connects directly to your Wi-Fi network for internet radio and also supports streaming music services like Spotify, Pandora, and iHeartradio.
Also, it has a Bluetooth connection so you can play music from your smartphone, tablet or laptop on this speaker. If you want more sound quality you can use the AUX port for a wired connection.
The M3 old-school Bluetooth speaker has an integrated DAC or digital-to-analog-converter to ensure minimal distortions from any sound source. It promises no sound loss during Wi-Fi and Bluetooth transmissions.
The bass is deep with rich ample sounds. M3 comes with 2x glass-fiber mid-bass speakers and 2x silk dome tweeters.
You can connect up to 10 speakers to your home Wi-Fi router and play different music on different speakers. This is useful if you want to stream different songs to different rooms, all at the same time.
As for the warranty, they offer a 3-year warranty for this product which is higher than the usual 2 years warranty that we find on other speakers.
Rerii Handmade Walnut Wood Portable Bluetooth Speaker
What we like: A unique design that may blend in naturally with almost any piece of furniture, Free radio because of the AM and FM built-in radio, 15-hour battery life
Not so much: The bass is not so great. As the volume goes up, the sound quality tends to go down, It may look bigger in pictures, but in reality, the speaker is about half the size of your hand – due to its reduced size, the handling can be a bit tricky, especially for an elderly person
This speaker has a unique design. The whole body of this portable Bluetooth speaker is handmade and crafted by natural walnut wood.
To preserve that vintage speaker look, it has a built-in FM and AM radio.
The speaker has Bluetooth 4.0 connection and a built-in 2200mAh lithium battery, with a 15-hour battery life for playing music on a single charge and a standby time of about one month. It also has a 3.5mm and a micro USB connection.
The sound quality is good due to the beautiful resonating wood.
The volume is quite loud so it shouldn't be a problem for the speaker to fill a rather large room.
Toshiba TY-WSP67
What we like: Play music and charge your phone at the same time with the USB charging port, Quality design, and solid build – It looks and feels like a premium, The Bluetooth connection is stable and it's easy to pair
Not so much: Although it has nobs for treble and bass adjustments, the bass is not so present. It sounds a bit hollow,
The portability factor is reduced because the speaker has no internal battery.
This vintage style Bluetooth speaker is pretty loud. It has powerful stereo speakers that produce 40 watts of music power. You can adjust the sound to your liking with the treble and bass adjustment nobs.
The vintage design is accentuated by the materials used to build this speaker. From the wood cabin to the polished gold-tone metal, everything seems to scream retro and quality at the same time.
For connectivity, it has Bluetooth for streaming music and also a 3,5mm Line-In if you'd like a wired connection. Stream music using your smartphone and charge it at the same time with this speaker's USB charging port.
QFX RETRO-100
What we like: A stable Bluetooth connection that really works, Port connections in the backside to preserve the vintage look, Made of real wood so the sound is good and the design is classy
Not so much: The internal AC power transformer may be a bit noisy, even on standby. Although the design is appealing, the building materials are not so great and durable in time. Many users reported various problems with the radio knobs, over time. No external radio antenna so the reception might be a little poor, depending on your location
With this vintage style speaker, you can enjoy free radio due to its built-in AM/FM radio antenna. Old meets modern with Bluetooth connectivity and the LED pairing indicator.
It also comes with a USB charging port so you can charge your mobile device while streaming music using the Bluetooth function.
The retro design is accentuated by the beautiful cloth speaker grille at the front and the old school FM/AM frequency selector.
The connections, such as the 3.5mm jack and USB are at the back, thus preserving that vintage look at the front.
LOFREE Retro Wireless Speaker
What we like: Outstanding warranty and a money-back guarantee in the first year, Produces lots of bass for a small speaker, Very stylish and unique in design
Not so much: The unique design may not be appealing for some people. You can either love it or hate it. The metallic case which doesn't resonate that good with audio equipment in general. Perhaps, wood would have been a better choice.
This wireless speaker from Lofree is using the latest 4.2 Bluetooth connection. It pairs up with any device in seconds. The portability factor is ensured by the 2000mAh built-in rechargeable battery that can play up to six hours of CD-quality music.
The speaker has a unique retro style design with an FM radio reception. It really throws you in the '50s due to its nostalgic appearance.
It comes equipped with a bass enhancement system. The system works by producing mids and highs from the front and the bass from the ultra-large diaphragm in the back of the speaker.
It comes with two pieces of 10-watt amplifiers processing audio output which makes the sound richer and louder without any distortions.
Last but not least, it comes with a 1-year MONEY BACK WARRANTY and lifetime customer service.
Victrola Wall Mounted Bluetooth Speaker
What we like: Great portability options due to its internal battery and the fact that you can hang it on the wall, or have it in your car. The possibilities are endless. Real wood is used in its construction and that's always a good factor. A premium and respected brand that you can trust
Not so much: It only has one speaker, so no stereo sound. No knobs for selecting the treble and bass levels. No AUX or Line-in 3.5mm connection port
The Victrola brand was born in 1906. It is a very old, premium and respected brand of audio devices.
This speaker is really odd-looking, the first time you encounter it. It has Bluetooth connectivity and a built-in battery.
The battery lasts for 14 hours of playtime and can be recharged in approximately six hours.
The output power is 10 watts. It is constructed out of real wood and it is wall mountable.
ART+SOUND
What we like: Ports in the back to increase the vintage and retro looks of the speaker. Good and stable Bluetooth connection.
Not so much: No knobs for selecting the treble and the bass. It can sometimes be shipped with missing cables. Their customer support could be better.
This old fashioned speaker really throws you back in time with its design. It looks like an old radio from the '40s.
But do not judge it by the way it looks because this speaker comes with a modern Bluetooth connection to pair your mobile devices.
It has an FM radio with built-in knobs on the speaker and also an AUX port if you want to use a wired connection. The built-in battery is ideal for portability.
All the connection ports are in the back of the device so that, if you only look at it from the front, you may be fooled into thinking that this is an old device.
The Conclusion
As I stated at the beginning of the article, there are many factors that you have to consider when buying a retro Bluetooth speaker.
I personally go for the sound quality as my top deciding factor. In my opinion, Marshall Acton has the best sound. Also, Marshall is a very old, premium and respected company that makes audio devices for decades. So they have a good experience with such devices. So, for me, this is the number one speaker.
But, if I were to look for portability, then my pick will be the Victrola Wall Mounted Bluetooth Speaker. As in Marshall, Victrola is a premium brand that has been around for decades. It specializes in audio devices.
This speaker that they produce has a good sound quality for a portable device. It has an integrated battery and it's easy to mount it almost everywhere. And also, it is made out of wood which helps the sound quality as wood resonates better than other materials and does not vibrate or makes distortions.
What is a Vintage or Retro Bluetooth speaker?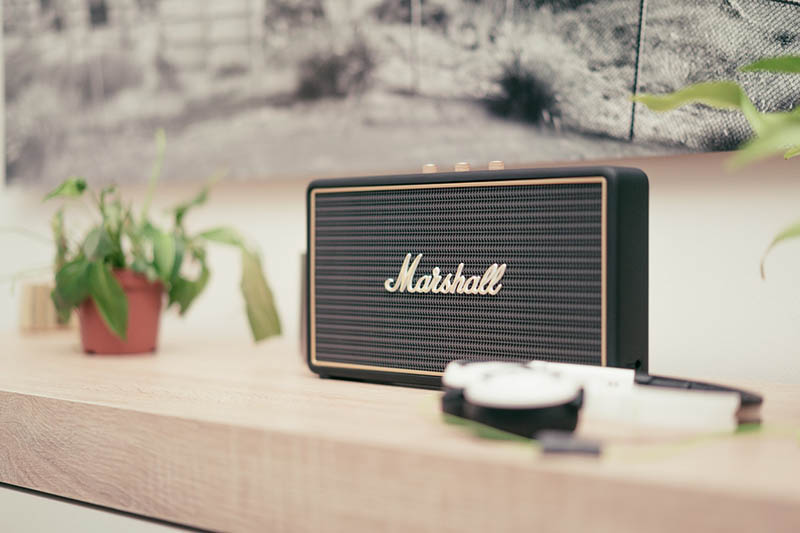 That's a good question. If you haven't heard of them before, you may feel a bit weird about putting the words vintage/retro and Bluetooth in the same sentence.
A vintage or retro Bluetooth speaker combines the vintage and retro design with the modern technology of today. The external design is old looking while, on the inside, the device is up to date with the latest connectivity and sound technology present in most of today's devices.
Who Would Want Such A Device?
People that look into these devices are people who like the old style radios and speakers, but, at the same time, they want to have the latest technology in them.
People who feel nostalgic about old times. Maybe they used to own such a device, and it broke or it got lost somehow. These devices are ideal for people that want to combine the vintage/retro with the modern.
These speakers are very popular because they take what's best from both worlds. They can be the ideal gift for elderly people.
What to Look For When Buying Such A Product?
There are many things to look for when you decide to buy a vintage Bluetooth speaker.
The Sound
Like with any other audio device, the most important and deciding factor, in my opinion, is the sound quality of the speaker.
A good speaker has a clear sound, free of any distortions. Distortions usually appear when you turn the volume way up on a speaker. But, sometimes, they are present at any volume as background static. A good trick to test this out is to power your speaker on and turn the volume to the maximum while you're not playing anything on it.
So no music, no sound and bring the volume up. Then move your ears close to the speaker, and, if you do not hear anything, then you have a high-quality speaker. If you hear static, distortions or any other noises than the speaker is not so great in the sound quality department.
The highs, mids, and bass need to be all present. For example, if a speaker has too much bass, it usually lacks mids and highs thus making the sound to appear stuffy. If the speaker has a very low bass, then the sound will be too flat.
Always try to find the best compromise here, and look for a speaker that has a bit of each. Also, look for those that have knobs for selecting the treble and bass levels.
The Connectivity Factor
We speak about vintage and retro Bluetooth speakers, so, yes, they all should have Bluetooth connections. But there are several types of Bluetooth connections out there.
The most recent Bluetooth version is the 5.0 one. It has faster speeds and allows more data to come through. This may translate into better sound quality overall. The next version of Bluetooth is the 4.2 one.
You should look for a device that has a minimum Bluetooth version 4.0 and above.
One very interesting feature as far as connectivity goes would be the Wi-Fi and DLNA with the option for internet radio. If you have a wireless router in your home, this feature could come in handy. It allows the speaker to connect to the internet and stream radio from the internet. This is very useful for people that have poor radio reception in the traditional FM mode.
Ideally, the speaker that you would choose should also have an AUX or Line-in port connector so you can also connect your streaming device (smartphone, tablet, laptop, computer) via a wire. Wireless and Bluetooth connections are not that stable so it's good to also have the option for a wired connection. Also, the sound quality for a wired connection is better than the Bluetooth connection, so this would be a good choice for those that are picky with sound quality.
And last but not least, look for a speaker that has a USB charging port so that your mobile device would not discharge while streaming music to your speaker. This way, you'll stream music and also have a full battery when you're done.
The Portability Factor
When you want to carry the speaker with you, you should look into speakers that have a built-in battery. Without this feature, you will be stuck with the speaker connected to a wall power outlet at all times.
This is not so simple as it may seem. Why is that? The speakers that have an integrated battery are usually smaller in size. A smaller size means smaller speakers, and that means the sound quality would not be that great as it would be with a larger speaker. A larger speaker usually has a deeper bass while a smaller one has a flat sound.
However, you cannot carry a large speaker that easily as you would a smaller one. So try to look for a compromise between the two. If it's portability that you want, go for the ones that have an integrated battery. If you want sound quality above all else, stick with the power outlet.
The Design
Obviously, one of the main reasons that you are looking into vintage style Bluetooth speaker is the design factor. You want old-fashioned speaker design so tastes may be subjective here.
But, as a tip, look for a speaker that has good build quality with good materials. Wood is also the better choice because it helps with the sound quality. Gold plated connectors also improve that. Also, metallic knobs are always better than the plastic ones.
Okay. So now you know what to look for in a vintage speaker. Next, I will present to you my top 10 best vintage and retro Bluetooth speakers. I will also come with pros and cons for each one and, in the end, I will choose my personal choice from this list.