Best Waterproof Rugged USB Flash Drives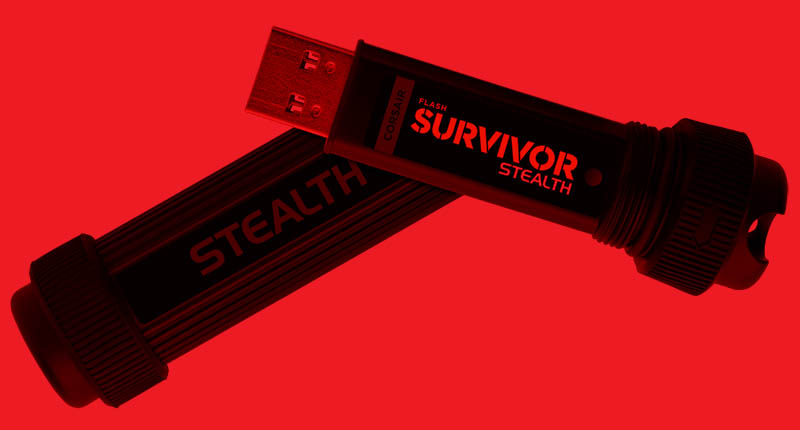 One of the greatest advantages of technological advancement is the innovative streak that it spurs – gadgets become better and almost certainly reduce in size.
For instance, laptops are now smarter and versatile, yet they are noticeably slimmer and lightweight. Media storage devices are also evolving; they are ultra-compact with increased storage capacities.
Today, people need the versatility of carrying their files and data on the go and this means that media storage devices such as USB flash drives need greater protection.
---
1
Corsair Flash Survivor Stealth 64GB USB 3.0
The Corsair Flash Survivor Stealth is a unique flash drive; unlike many USB drives, it's encased in a strong aluminum sleeve housing that protects the flash drive's components.
The aluminum sleeve is made of aircraft grade material, with rubber components on both ends to ensure that it's waterproof.
Interestingly, several users have actually had the misfortune of dropping their Stealth flash drive in beer or muddy water and were pleasantly surprised to find all their files intact.
The Stealth drive is compatible with Windows XP, Vista, 7 and 8 along with Linux and Mac OS – on this front, users have not complained about compatibility issues. There are versions up to 256GB.
Stealth offers faster read and writes speeds giving it greater performance when copying large files. The drive is vibration resistant and shock resistant – its reliability has been put to the test several times as many users give various accounts of how their Stealth flash drives have survived years of "abuse" and rough handling.
However, others were not so lucky. A good number of users complained about unreliability and loss of data while using the Stealth flash drive – it either malfunctioned or corrupted their files.
For most of the disgruntled users, the flash drive was either defective or could not transfer large files.
PROS:
Strong aircraft-grade aluminum casing that protects the flash drive's components
Waterproof to 200 meters
Protected from impact damage and vibration
High performance when transferring files – has both USB 3.0 and USB 2.0 connectivity
Plug-n-Play compatible
Universal compatibility – Windows, Linux, and Mac OS
CONS:
The flash drive is too big in size – not easy to conceal
---
Samsung is known for its pedigree in quality and reliability so it is unsurprising that they would manufacture a durable flash drive that is waterproof, temperature proof, shock proof, magnetic proof and X-Ray proof. They call it the 5-proof technology.
The Samsung Bar is a simple yet stylish USB 3.0 flash drive with an attractively low price. Its unique metal casing gives this flash drive an appealing combination of form and performance.
The sleek USB 3.0 flash drive offers high performance during file transfer with backward compatibility with USB 2.0.
An overwhelming 76% of buyers rated the Samsung Bar a five out of five. Among the top features mentioned that make this flash drive their best choice include; consistent high speeds during file transfer, reliable data storage, great build quality, aesthetically appealing and small, yet powerful. One user goes so far as to say, "It's quite possibly a perfect USB drive". 
Although a lot of buyers found this flash drive perfect for their needs, a few were not so impressed.
Three things came up – one, some people felt that the loop position was a bit off. Two, for some buyers, they experienced difficulty when using the flash drive. It was not recognizable on their PCs. Three, the USB drive stopped working after a few weeks leading to data loss.
PROS:
High performance with data transfer speeds of up to 130MB/s
Premium metal design that is aesthetically appealing
5-proof protection – safeguards data
Features NAND flash technology
CONS:
The metal casing is slippery making it hard to grip
The flash drive gets very hot when in use
No cover for the USB port
---
The GorillaDrive is a tough-looking USB flash drive that is worthy of the term, "Ruggedized". It is made of durable silicon compounds that can withstand the stress of everyday life.
The flash drive is made to withstand pressure, impact, and heat. It's also water resistant up to 65 feet (19.8 meters).
Buyers of the GorillaDrive were particularly impressed by the high-quality build of the flash drive along with the rubbery silicon body that makes handling so much easier.
Unlike many USB drives that are sleek and smooth to the touch, this one has facets all over its body. The cap fits securely and snugly. On closer inspection, you will notice that the flash drive uses a combination of a lip and a mating groove to secure the cap and make the USB waterproof.
So far, very few complaints have been raised concerning the flash drive's build or physical attributes. It's worth noting though, that the flash drive does not have a USB 3.0 interface and this makes it less fast in transferring files.
One critical review described the flash drive as, "Durable but very slow". Another issue that was brought up by a handful of people is that their drives malfunctioned while still new or after a short while.
PROS:
Heavy duty flash drive that can withstand physical abuse and still keep data intact
Universal compatibility – Windows 7, 8 and 10, Mac OS and gaming consoles
Plug-n-Play compatible
Anti-scratch TPU material gives it a rubbery feel that is easy to grip
Has a metal attachment loop to secure drive with a lanyard
CONS:
Does not have a USB 3.0 (USB 2.0 interface makes its read and write speeds average to low)
---
The Patriot Supersonic Boost XT is an average looking USB flash drive. However, looks can be deceiving – this flash drive has an impressive user rating.
A good number of users find it functional and hardy, able to withstand shock and physical damage. The drive is housed in a rubber body with a rugged exterior that provides physical protection.
Most users had no problems with storage or data loss and would highly recommend this product.
Its performance was deemed satisfactory or even excellent in most cases in terms data storage and data transfer. The drive clocks high speeds of up to 150MB/s read thanks to the USB 3.0 technology.
The flash drive is compatible with Windows 8, 7, Vista and XP, Linux and Mac OS9 and later. This may explain why some users had trouble connecting it with their PCs – the device was unrecognizable with some PCs.
Perhaps the most surprising complaints were about the rubber housing sloughing right off of the internal unit. This should never happen with a USB that is supposed to be waterproof. It is not possible to judge the integrity of the rubber housing based on these isolated cases though.
PROS:
Uses USB 3.0 technology making files transfer fast
The rubber housing provides physical protection
CONS:
May not be compatible with some versions of Windows and Mac OS
Struggles with write activity
---
The Corsair Flash Voyager is a premium flash drive with USB 3.0 technology that offers great transfer speed and it is also backward compatible with USB 2.0.
It has a rubber housing which is water resistant and shockproof. It's compatible with Windows, Linux, and Mac OS and it's easy to use – just plug and play.
Corsair, the brand, is synonymous with high-end, high-quality products and this line of ruggedized flash drives does not disappoint. The flash drive not only delivers high transfer speed but is also durable and reliable.
With such excellent build quality, it is no surprise that buyers find the Voyager flash drive a great choice – it is highly rated by users.
A sizeable number of users contest this flash drive's durability and reliability.
For some people, it stopped working from the moment it came right off the shelf. For a few others, it lasted a couple of weeks or months and then it ceased working completely.
It has also been reported to exhibit intermittent operation – sometimes it is recognizable by PCs, other times it is not. These are the pressing issues on the negative side of the reviews.
PROS:
Excellent build that protects the flash drive from physical damage
Waterproof and shockproof – safe data storage
USB 3.0 connectivity – also compatible with USB 2.0
Transfer speeds of up to 190MB/s read
CONS:
The write speed is not as good as expected – 110MB/s or less
Big in size – not suitable for USB connectors in tight spaces
Dependable, sturdy and attractive – these are some of the words used to describe the LaCie XtremKey 32 GB flash drive by reviewers.
At first glance, you will notice LaCie XtremKey's sleek metallic design. The flash drive's components are protected by a metal alloy enclosure. This housing is sealed against moisture by a threaded screw-on cap and a rubber O-ring.
This waterproof USB drive has been designed to survive more than the usual bangs and bumps of daily life – it can endure all sorts of unfriendly environments, from submersion in water to extremes in temperature, shock, and vibration.
LaCie even made a video to demonstrate just how much brutal abuse the metal canister of their XtremKey drive can withstand. It is pretty impressive.
The XtremKey flash drive not only protects your files against physical damage, the drive is also protected with AES 256-bit encryption. Apparently, this is the same type of encryption that secures the government's classified files.
This flash drive definitely seems impervious and unstoppable, however, this may not be the case. A good number of users have raised complaints about its performance and reliability.
For many users, the drive stopped reading in their USB port or never read at all. Other dissatisfied buyers either got a defective flash drive or lost all of their files and data.
On a more positive note; at least 50% of buyers loved the XtremKey flash drive. They found it to be an excellent value for their money, the USB gave them many years of service and its performance was commendable. They would recommend this product to their friends.
PROS:
Built with a strong metallic housing that protects the internal components
The drive is secured by 256-bit AES encryption software
High-speed USB 3.0 flash drive for fast data transfer
The drive is waterproof and resistant to heat, cold, pressure, shock and impact
CONS:
Becomes very hot when in use
Complaints about its performance and reliability
---
back to menu ↑
Choosing a Waterproof Rugged USB Flash Drive – What Do I Need To Know?
Data Security
This is why you are here. We're gonna show you the best-rugged flash drives there are currently on the market. These flash drives are designed to keep data safe from physical damage.
Data security can be enhanced with secure drives that offer encryption and password protection. This protects your data against unwarranted access.
Data Transfer Speed
This should be high to facilitate faster data transfer. It is especially important for larger flash drives that may be carrying large files.
Look out for flash drives with the USB 3.0 interface as this technology improves transfer speed by up to four times.
It is important to check that your computer is USB 3.0 compatible if you intend to buy a USB drive with this technology.
Storage Capacity
You will never regret having too much space, but you will regret having too little and it will cost you more. If your budget allows it, buy a flash drive with a larger storage capacity.
Guarantee and Warranty
Longer warranties somewhat reflect the manufacturer's faith in their product. Go for rugged flash drives that have a longer warranty – you will be covered in case you buy a defective product or one with poor workmanship.
Affordability
How valuable is your data? How much are you willing to spend to protect your data? These two questions are important and will help determine what kind of rugged flash drive to choose.
Usually, more expensive drives are made of better quality material and have good grade components. Some come with more security features than others.
Choose a flash drive that best serves your needs and is within your budget.
Size and Portability
The size of the flash drive is important if you intend to carry the drive around often. A smaller size is preferable because it is compact and convenient – big sized flash drives may make it hard to use adjoining USB ports. Apparently, size does matter.
Our Pick: Corsair Flash Survivor Stealth
The drive is vibration resistant and shock resistant - its reliability has been put to the test several times as many users give various accounts of how their Stealth flash drives have survived years of "abuse" and rough handling.